MILITÆRHISTORISK SAMLING - GAUSDAL

PEACE DAYS EGERSUND May 1945
---
---
9. april 1940 var Egersund blant de første byene i Norge som ble angrepet av tyske styrker. Grunnen for dette var den gode havna, og sambandskabelen mellom Norge og England som gikk ut i havet fra Egersund. Sambandskabelen hadde strategisk betydning. Tysk kontroll i byen og områdene rundt ble raskt oppnådd.
Den tyske okkupasjonsmakten bygde opp store leirer i distriktet. Blandt disse kan nevnes Slettebø, Stapnes og Nordre Eigerøy.
Området hadde også stor fokus hos de allierte som drev både etterretning og sabotasje operasjoner. I 1944 ble det opprettet en motstandsgruppe med kodenavn Vestige 4 som på slutten av krigen holdt til i heia ved Mysingehålå.
I 1944 ble jernbanelinjen fra Egersund knyttet til Sørlandsbanen via Sira.
Bildene du ser under er fra fredsvåren 1945.
Bilder fra Vestige 4 kan du se under egen fane "Vestige 4 i Mysinghålå ved Egersund".

En stor takk til Abram Sørdal og Olaf Aurdal fra Egersund for støtte til utforming av tekster til bildene vist nedenfor.

9 April 1940 Egersund was among the first cities in Norway who was attacked by German forces. The reason for this was the great port and communications cable between Norway and England who went out to sea from Egersund. Communication cable had strategic importance. German control in the city and surrounding areas were quickly achieved.
The German occupying forces built up large camps in the district. Among these may be mentioned Slettebø, Stapnes and Northern Eigerøy.
The area also had a major focus of the allies who ran both intelligence and sabotage operations. In 1944, it created a resistance group codenamed Vestige 4 that at the end of the war and remained in Heia at Mysingehålå.
In 1944 the railway line from Egersund related to Southern Railway via Sira.
The pictures you see below are from peace spring 1945.
Photos from Vestige 4 see under separate tab "Vestige 4 in Mysinghålå at Egersund."

A big thanks to Abram Sørdal and Olaf Aurdal from Egersund to support the design of texts to the pictures shown below.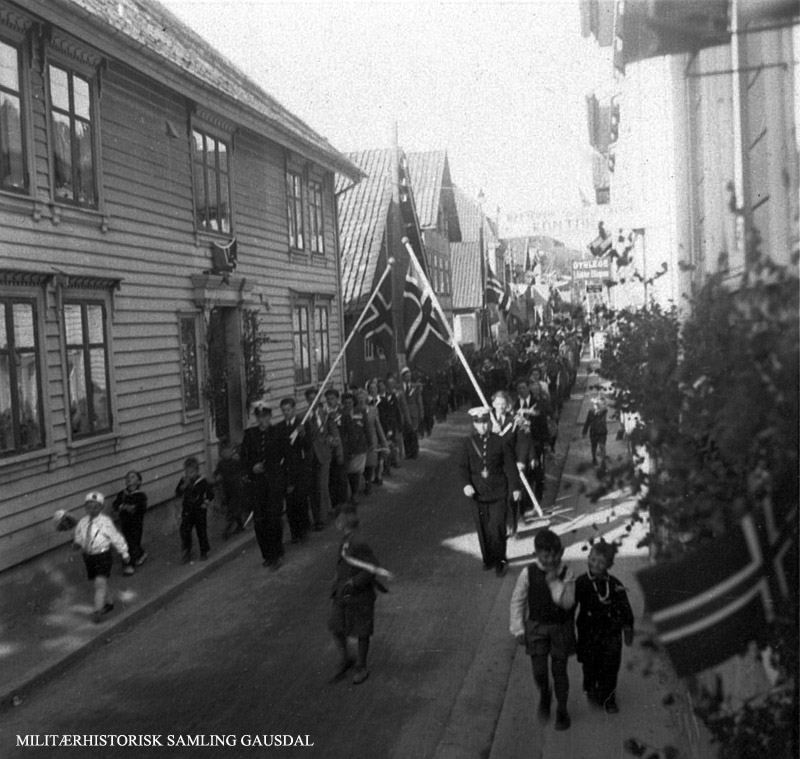 e1a
17 mai 1945. Borgertoget i Strandgt.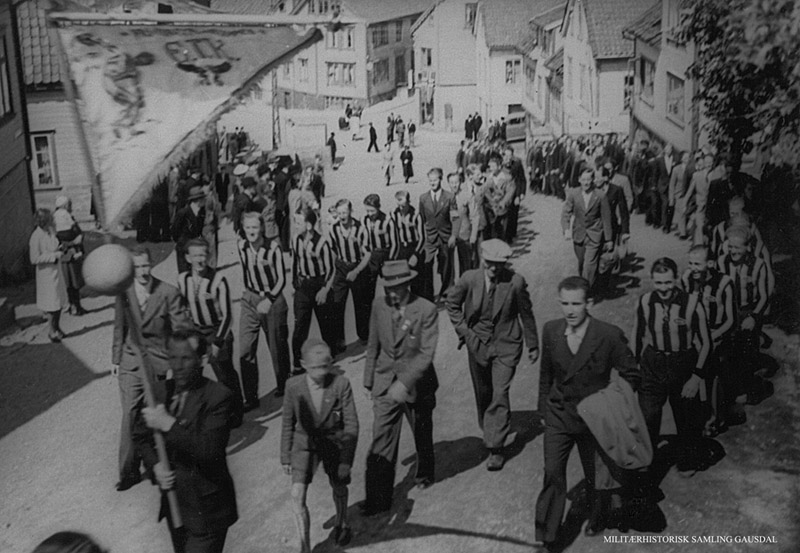 e1b
Lerviksbakken, Egersund 1947. Eiks fotballag på vei opp til Idrettsmarken. Garderobe og
dusj var i gymnastikklokalet i Strandgt, inntil tilsvarende ble anlagt på Idrettsmarken.





e1c
17 mai 1945. Barnetoget i Elvegt ved Damsgård bru.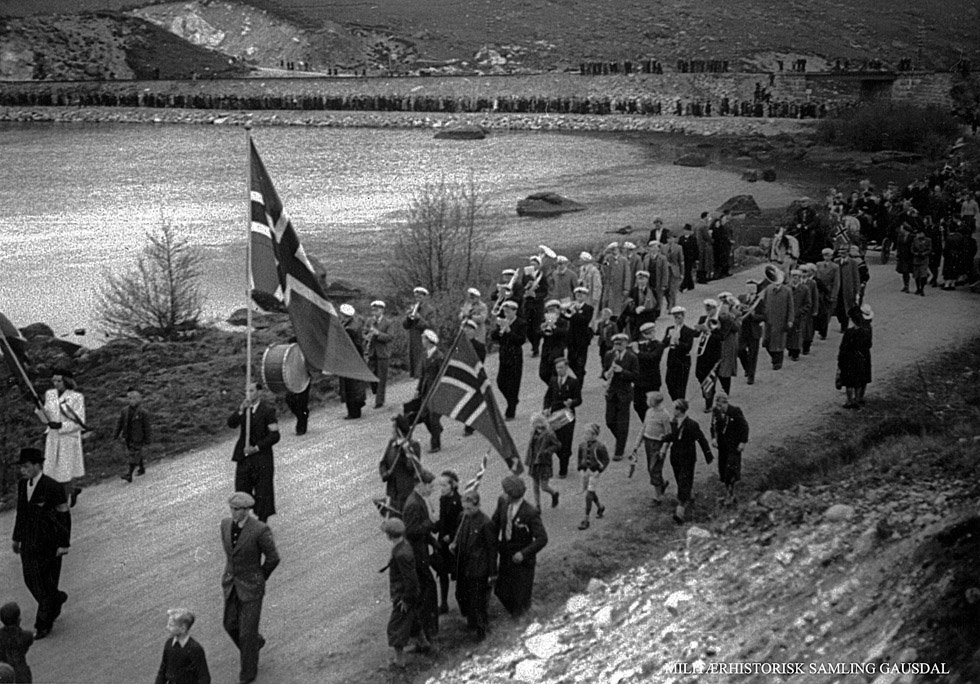 e8a
8 mai 1945. Opptog med grinifangene på vei fra stasjonen til torget. Fangene ble kjørt med hest og vogn.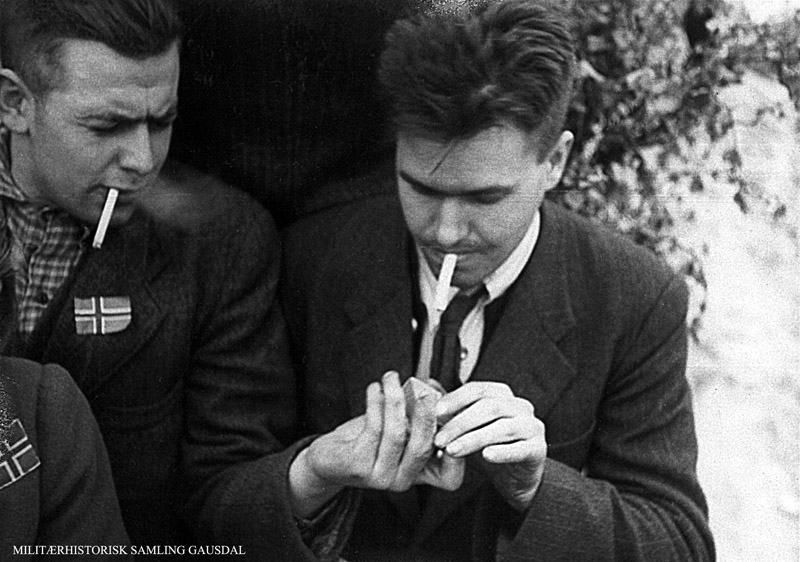 e8b
10 mai 1945. Grinifangene Jonas Svela og Olav Vaule fra Bjerkreim
May 10, 1945. Grini prisoners Jonas Svela and Olav Vaule from Bjerkreim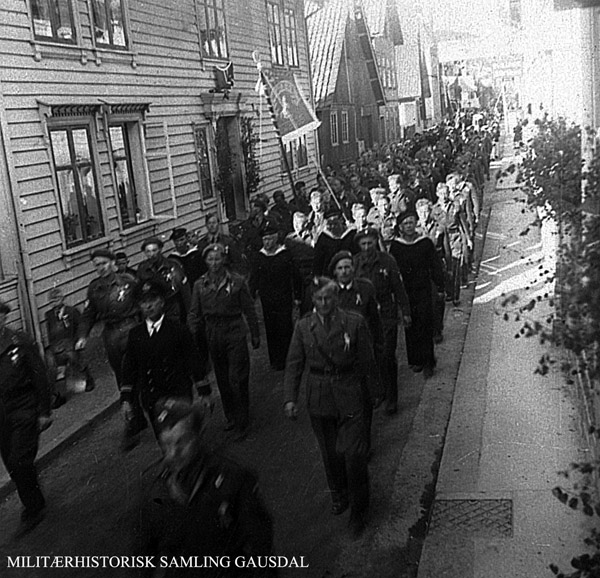 e8c
17 mai 1945. Borgertoget i Strandgt.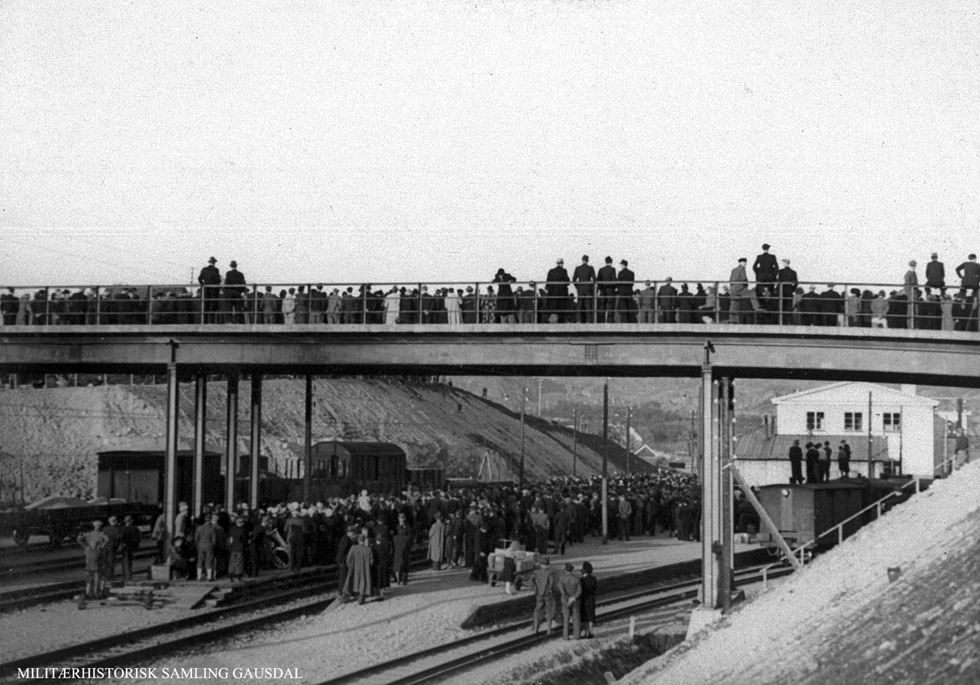 e10a
Egersund stasjon 10 mai 1945. Folk venter på toget med Grinifangene.
Egersund station 10 May 1945. People waiting for the train with Grini prisoners.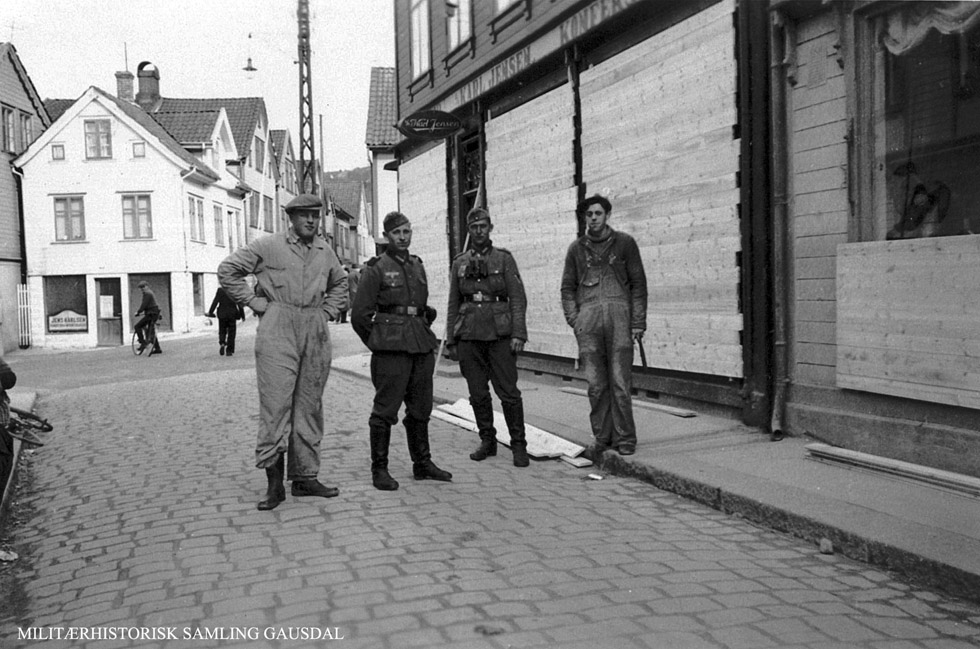 e10c
Storgt 10 april 1940 – Panikkdagen. Se navneliste.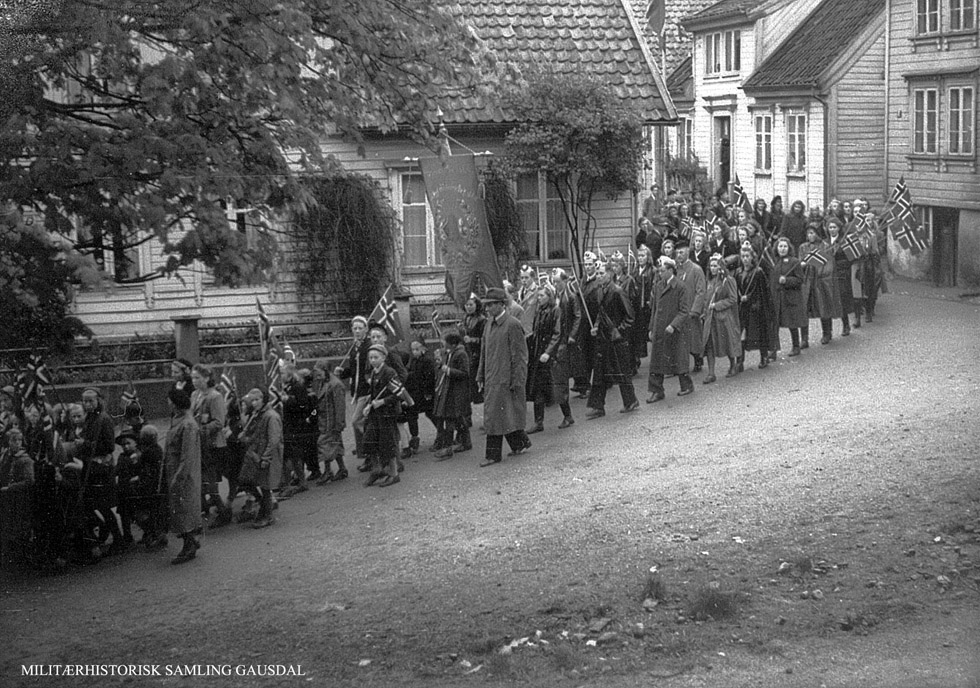 e11b
17 mai 1945. Barnetoget ankommer Parkveien.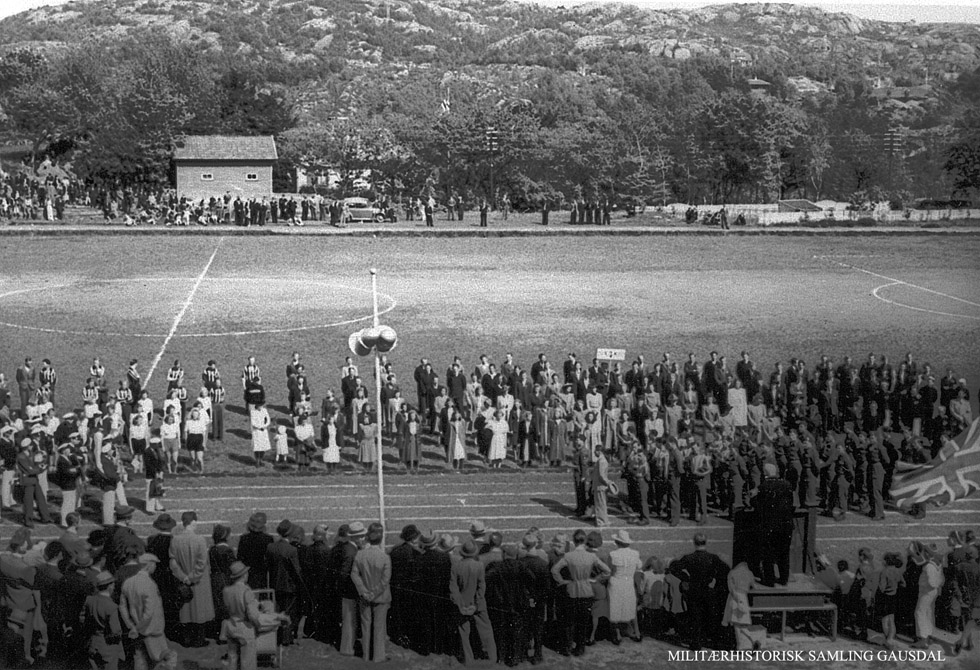 e11c
Idrettsplassen. Idrettens dag 3 juni 1945
Sports field. Sport day June 3, 1945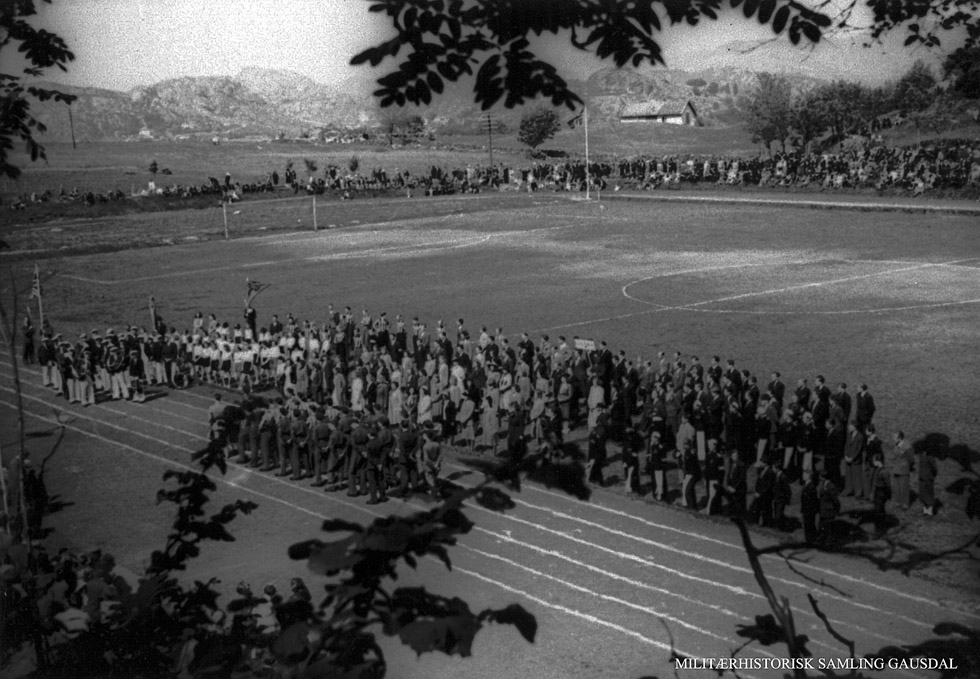 e12a
Idrettsplassen. Idrettens dag 3 juni 1945. Eik spilte mot et engelsk lag. Dette var første
internasjonale fotballkamp i Egersund. Oppstilling før nasjonalsangene ble spilt.
Sports field. Sport day June 3, 1945. Eik played against an English team. This was the first international football match in Egersund.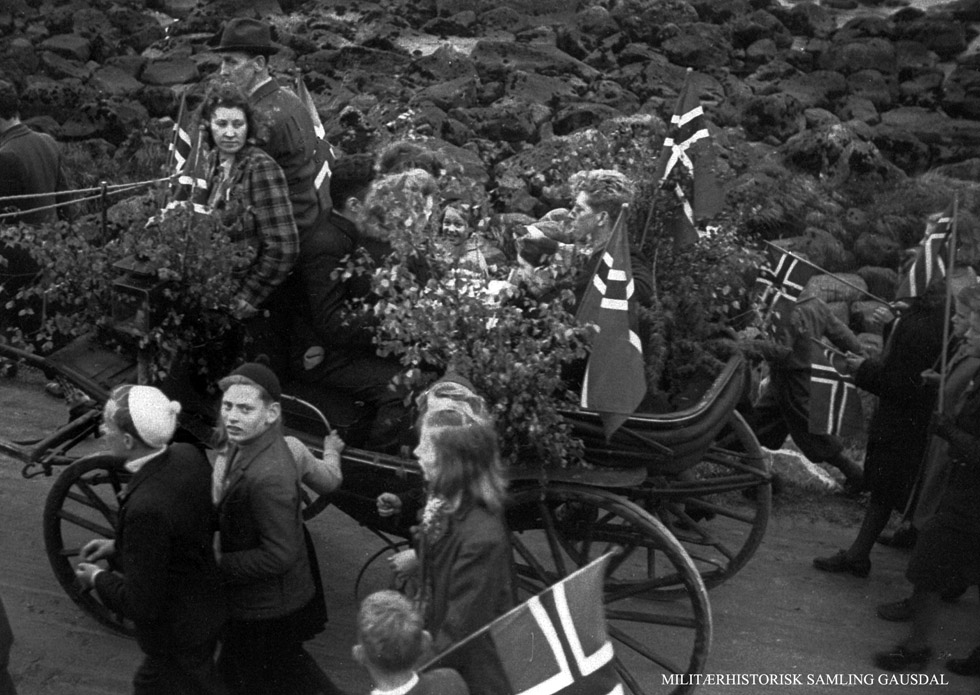 e12b
10 mai 1945. Grinifanger kjøres fra stasjonen til torget. Familien Aakre.
May 10, 1945. Grini Prisoners runs from the station to the square. Family Akre.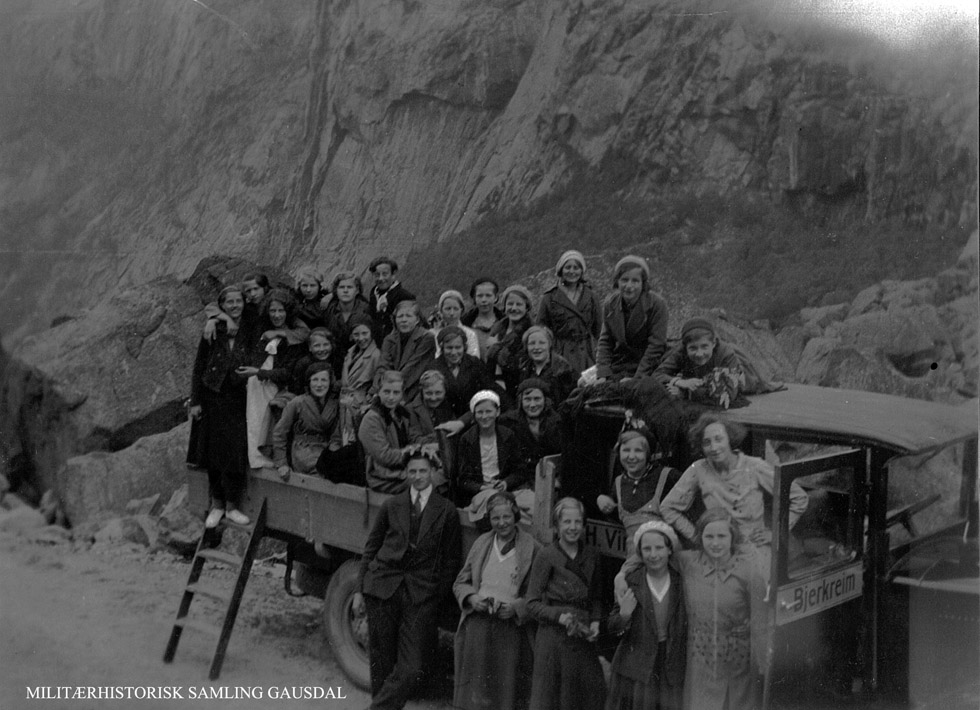 e16a
Klassetur til Gloppedalen 1932. Se navneliste.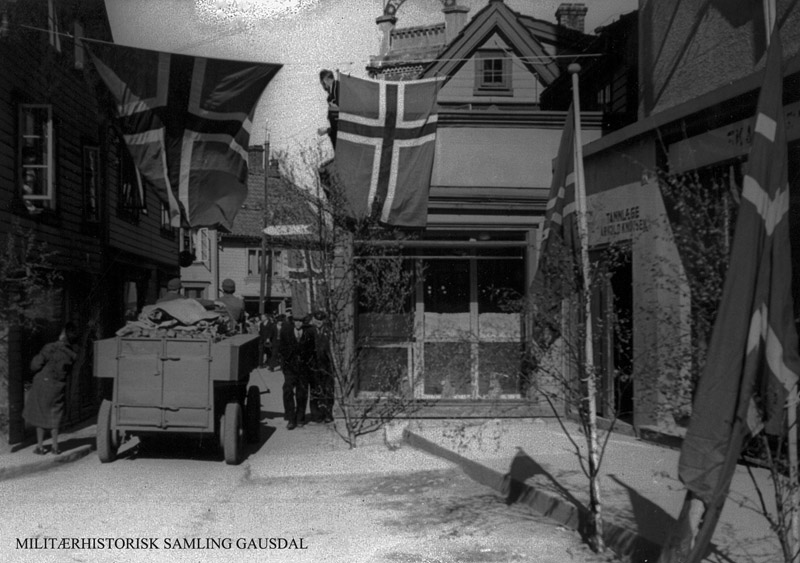 e16b
Storgt 8 mai 1945. Brødvogn fra Slettebøs bakeri på vei med brødlast til Slettebøleiren
Storgaten May 8, 1945. Bread trailer from Slettebø bakery on the way with bread cargo to Slettebø camp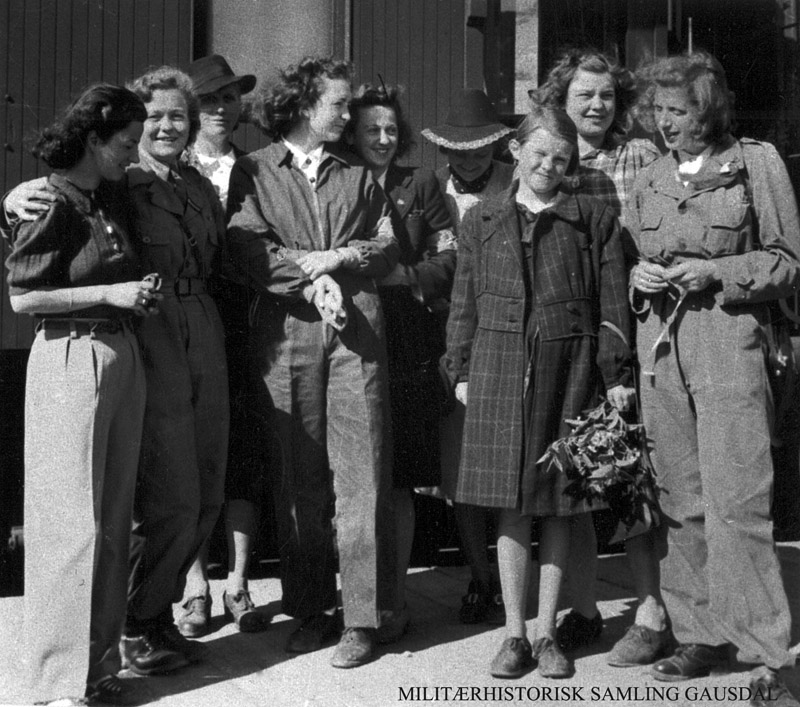 e16c
Ukjent





e001a
Markering i det fri (sted ukjent). Sannsynligvis Egersund musikkorps.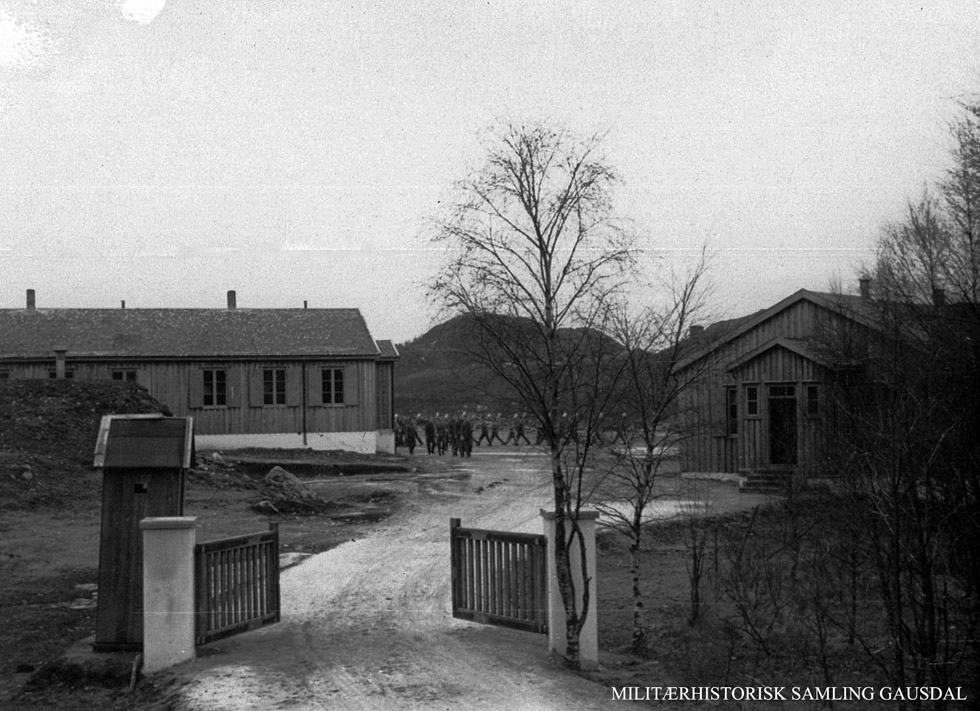 e001b
AT leiren Egeland i Bjerkreim høsten 1944. Leiren ble 2 januar 1945 brent av Åkre-gjengen fra SOE operasjonen Vestige 4.
AT camp Egeland Bjerkreim in autumn 1944. The camp was January 2, 1945 burned by SOE operation Vestige 4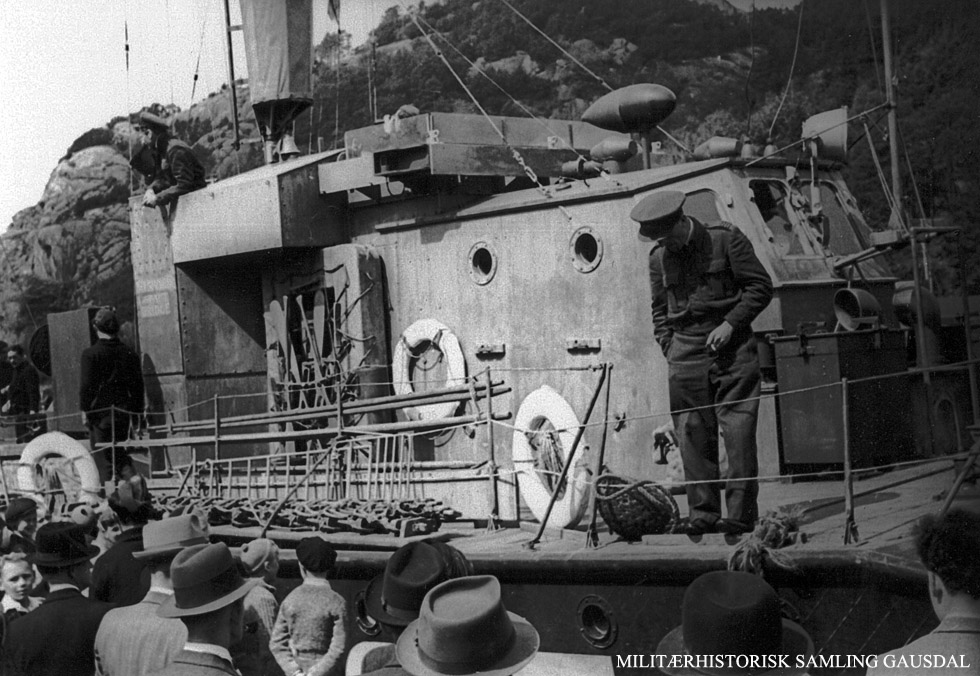 e002a
Marinefartøy fra UK. Enten MTB eller ubåtjager
Navy Ships from the UK. Whether MTB or submarine destroyer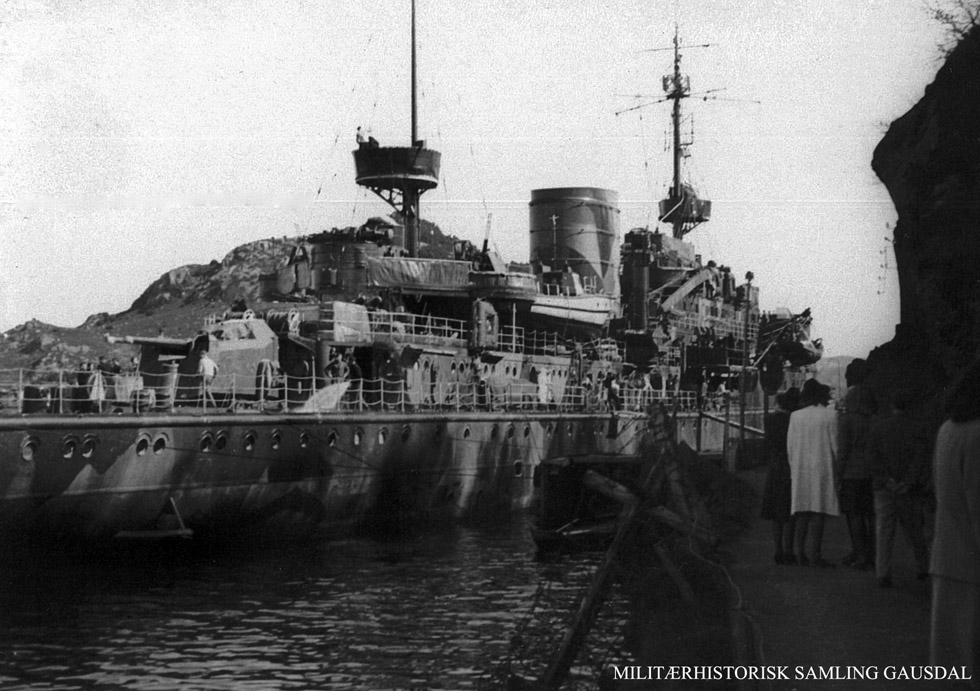 e003b
Egersund mai 1945. Adolf Luderitz tyske moderskip for "Snellbåter". Fartøyet var godt bestykket
med luftvernvåpen. Det var et imponerende syn når det ble åpnet ild fra alle våpen samtidig.
Egersund May 1945. Adolf Luderitz German mothership for "Snellbåter". The vessel was well armed
with anti-aircraft guns. It was an impressive sight when it opened fire from all weapons at once.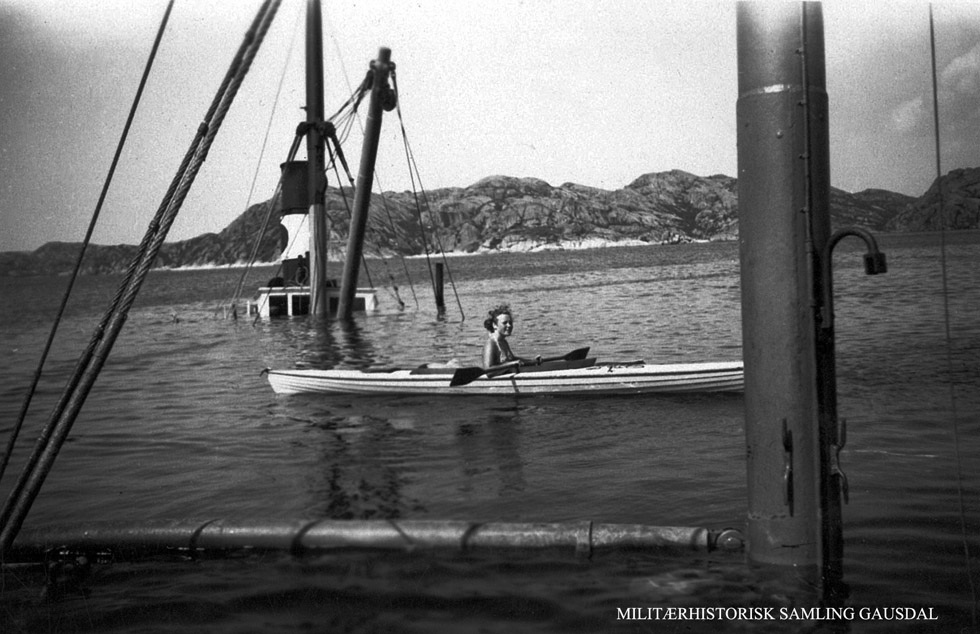 e004a
Vraket av "Arnfinn Jarl" i Nordre sund. Senket av fly 27 des 1940.
Det er forloveden til fotograf Arne K. Feyling som padler kajakk.
The wreck of the "Arnfinn Jarl" in Northern strait. Sunk by aircraft 27 Dec 1940.
It's fiance to photographer Arne K. Feyling that paddling kayak.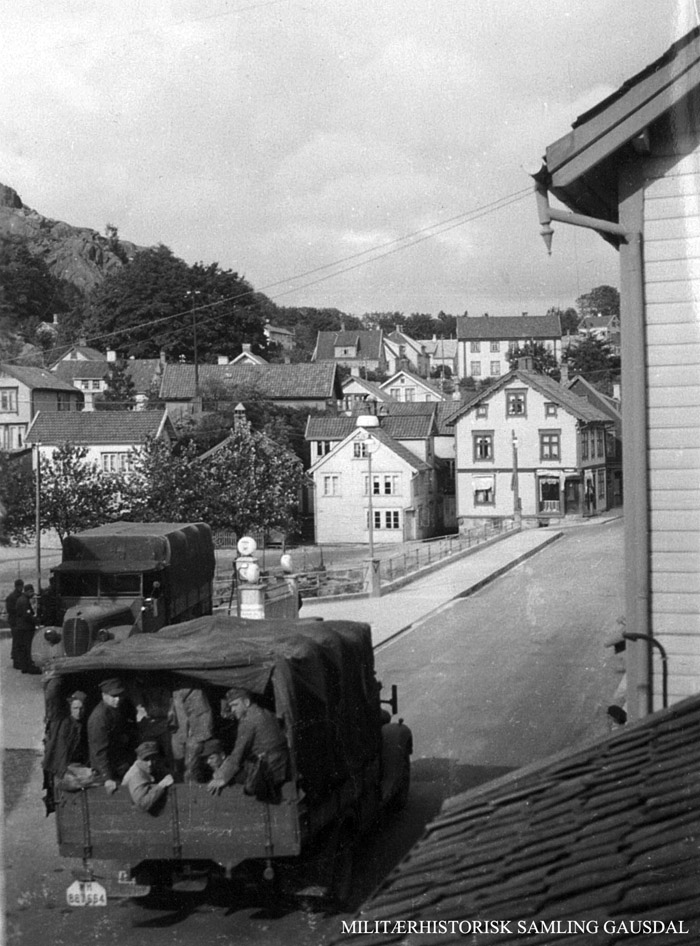 e004b
Tysk transport ved Damsgård bru 1942/43.
German transport by Damsgård bridge from 1942 to 1943.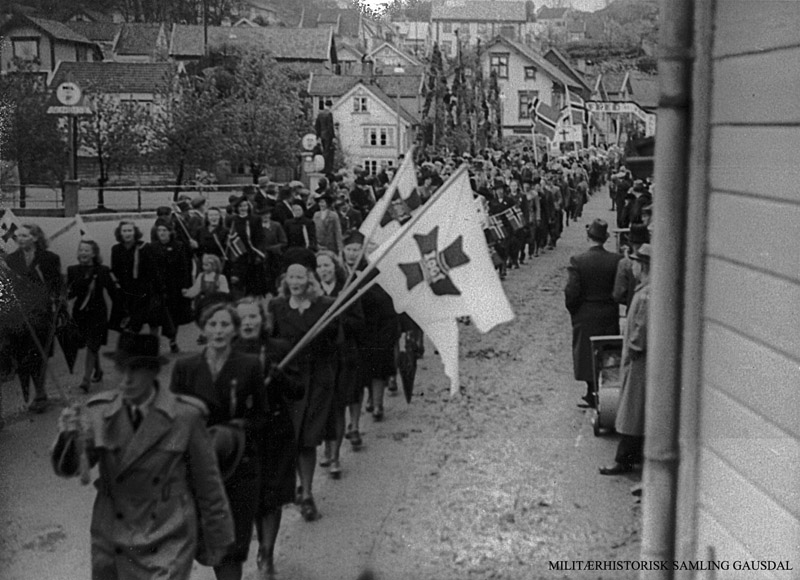 e004c
17 mai 1945. Borgertoget på Damsgård bru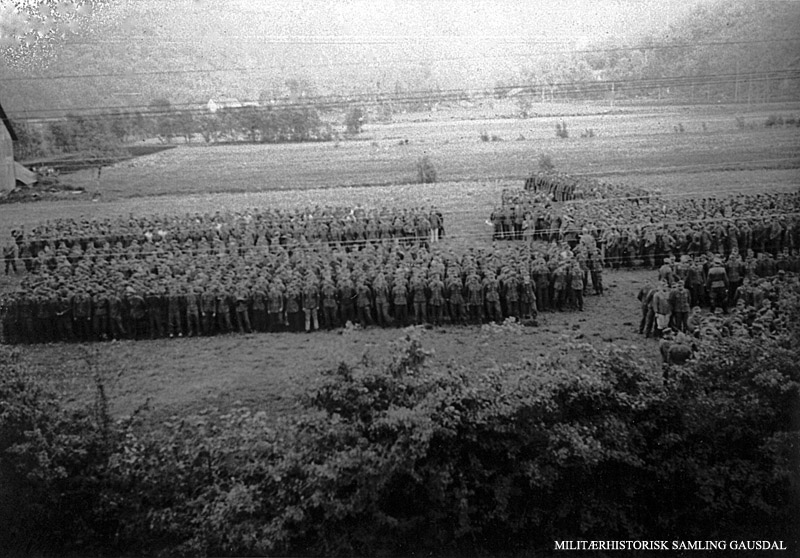 e004d
Slettebøleiren mai 1945. Tyske soldater står oppstilt.
Slettebø camp in May 1945. German soldiers are lined up.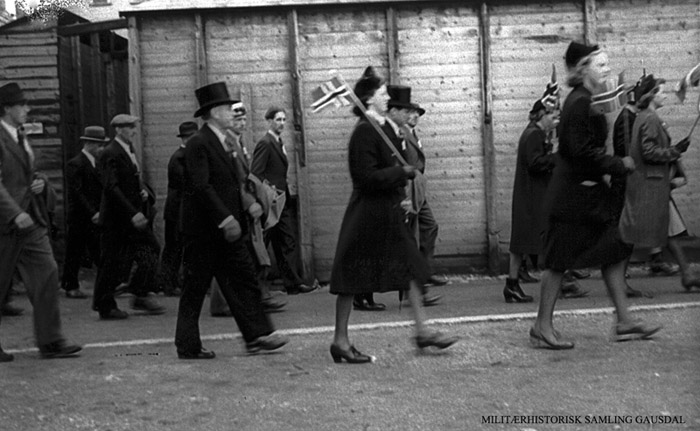 e006a
17 mai 1945. Borgertoget i Strandgt. Passerer beskyttelsesrommet ved Middelskolen. Innenfor plankegjerdet var det stablet sandsekker.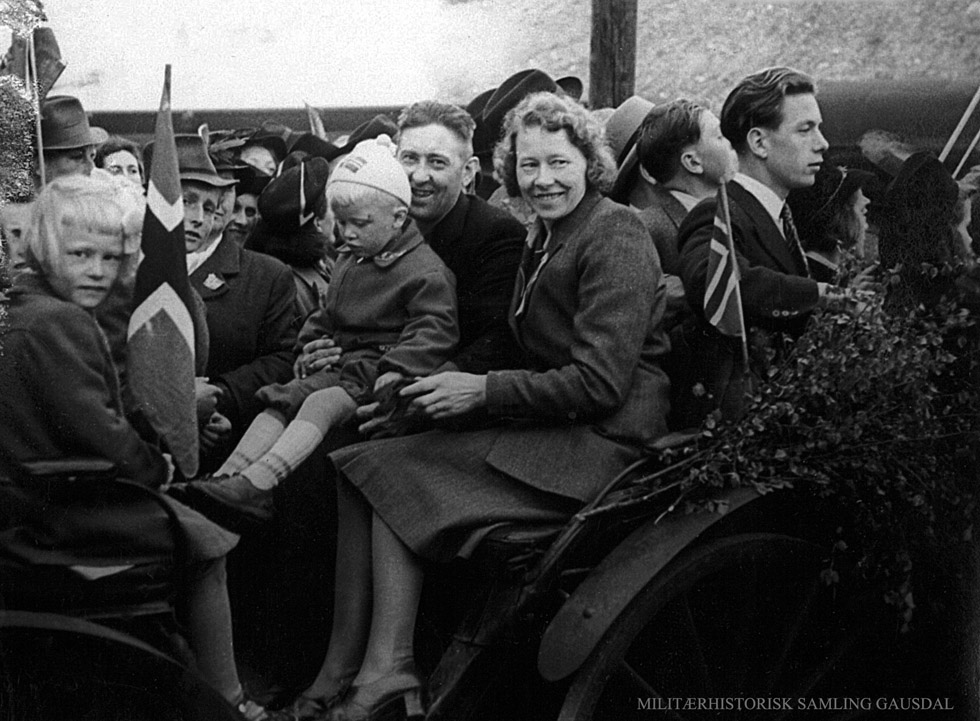 e006c
10 mai 1945. Grinifangene er hjemme. Erling Midtbø, hans kone og tre barn. Familien var fra Sokndal.
May 10, 1945. Grini prisoners are at home. Erling Midtbø, his wife and three children. The family was from Sokndal.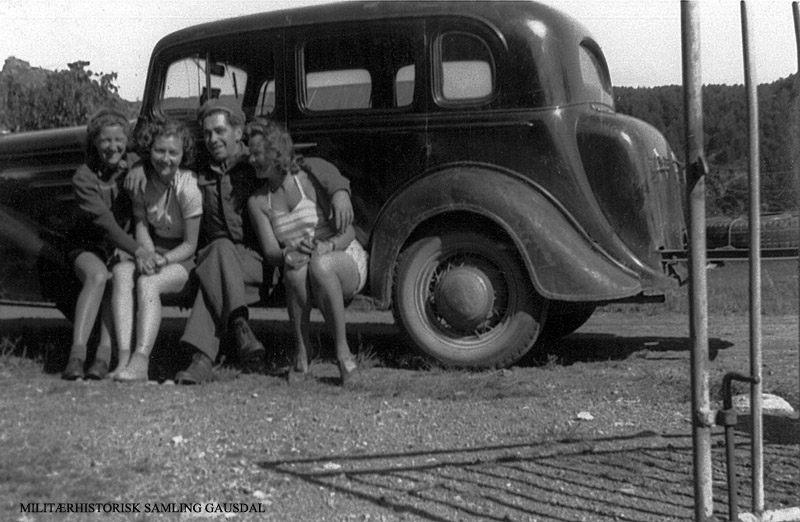 e007a
Ved Egersund sommeren 1945. Alf Aakre. Til venstre for ham sitter Aasta Michalsen.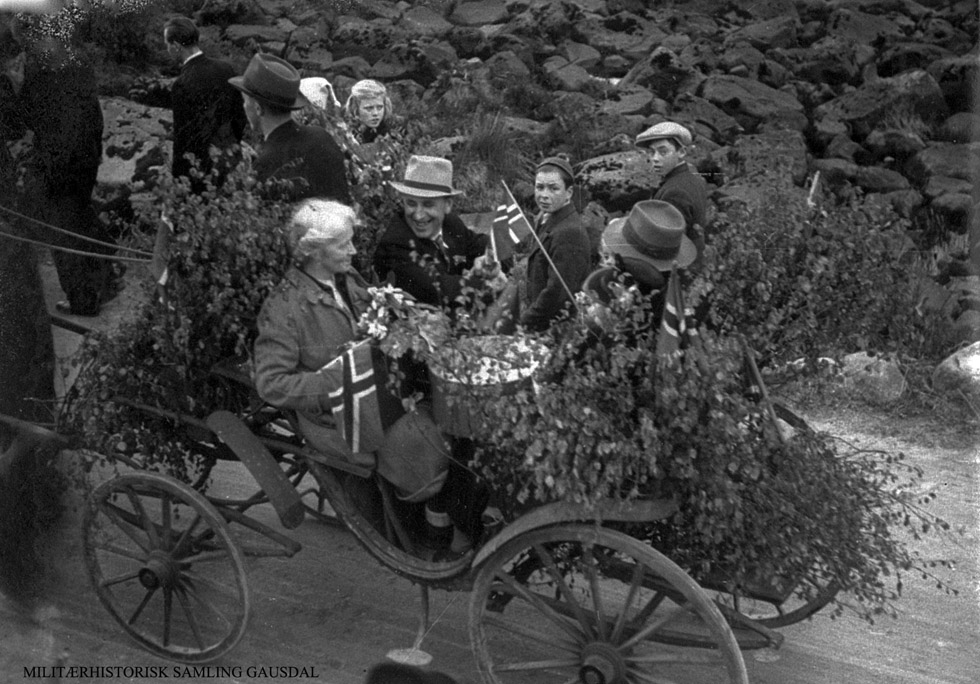 e007b
10 mai 1945. Grinifangene er kommet hjem. Bertha og Reinert Ege.
May 10, 1945. Grini prisoners come home. Bertha and Reinert Ege.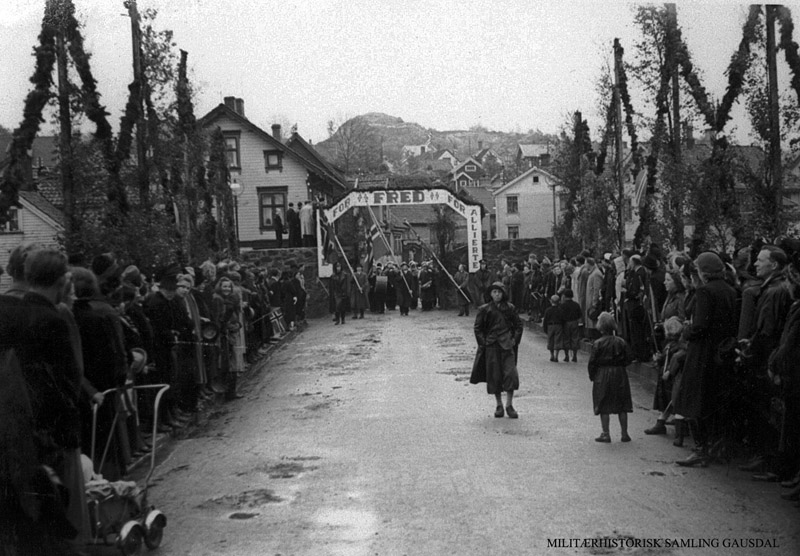 e008a
17 mai 1945. Barnetoget ankommer Damsgård bru.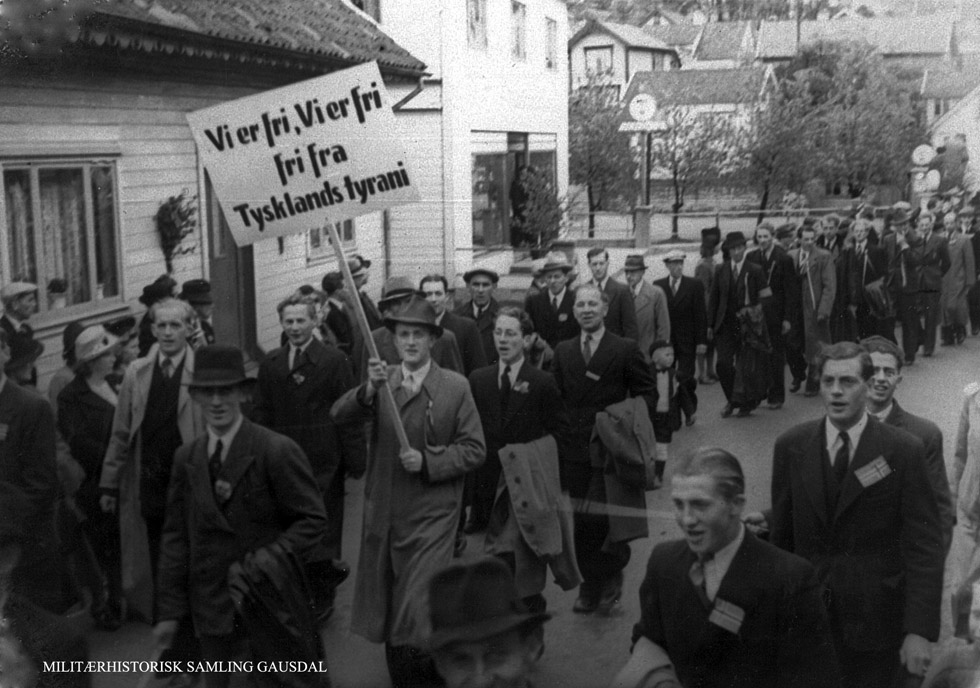 e008b
17 mai 1945. Borgertoget i Elvegt ved Damsgård bru. Egersund Idrettsklubb.
"We are free, we are free, free from the tyranny of Germany."



---
---