MILITÆRHISTORISK SAMLING - GAUSDAL

SOLA AIRFIELD MAI 1945



---
---
Den sivile flyplassen på Sola ble angrepet av tyske styrker 9. april 1940. Slik det er kjent er dette første gangen angrep med fallskjermsoldater er gjennomført.
For den tyske okkupasjonsmakten var Sola flyplass strategisk svært viktig for tyske fly som overvåket og patruljerte Nordsjøen og norskekysten. Flyplassen ble også flere ganger angrepet av allierte fly.
The civilian airport at Sola was attacked by German forces 9 April 1940. As is known, this is the first time attack with parachute troops is completed.
For the German occupation was Sola airport strategically very important for German aircraft surveillance and patrolled the North Sea and the Norwegian coast. The airport was also repeatedly attacked by Allied aircraft.

Takker Harald Storlid fra Sola for historisk verdifulle tekster til bildene på denne siden.
Thanks Harald Storlid from the Sun for valuable historical texts of the images on this page.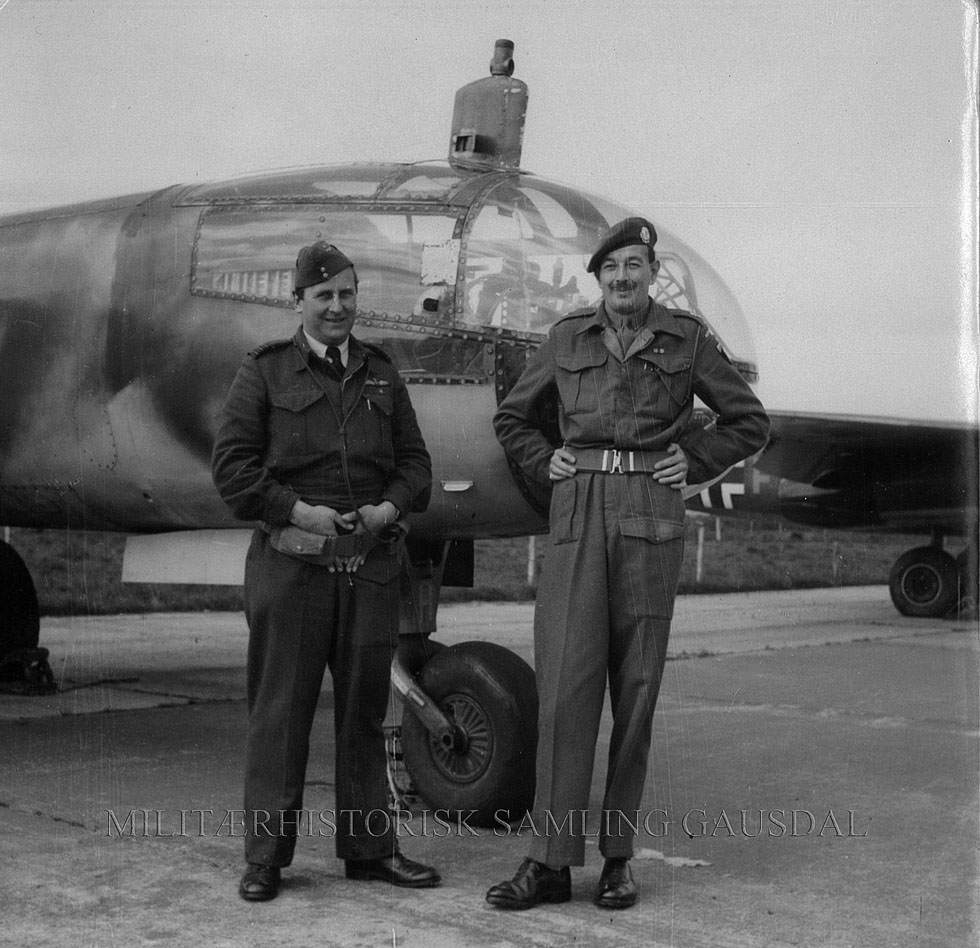 fly1c
The world's first jet bomber Arado AR 234B

Bilde er tatt på Forus, personen til venstre er mest sansynlig en officer ( RAF flyger )
som tilhørte Dissarment Group som var på Sola sommeren 1945. Denne Group var
ansvarlig for de tyske flyene som var i område. De tok avgjørelsen på hvilke tyske fly som skulle bevares og
hvilke fly som ikke skulle bevares. Personen til høyre er British Army representant.
Han bærer Military Cross ribbon, han kan være en av de britiske militære lederne i området
Photo taken at Forus airport, the person on the left is most likely one officer (RAF pilot)
belonging Dissarment Group which was at Sola summer 1945. The Group was
responsible for the German planes were in the area. They took the decision on the German aircraft which should be preserved and which aircraft should not to be preserved. The person on the right is the British Army representative.
He carries the Military Cross ribbon, he can be one of the British military leaders in the area



fly2b
Bilde av Arado AR 234 B tatt på Forus. Merk at sideror er demontert på disse flyene.
Picture of the Arado AR 234 B taken at Forus. Note that the rudder is removed on these planes.






fly2c
Bilde av Arado AR 234 B tatt på Forus
Picture of the Arado AR 234 B taken at Forus.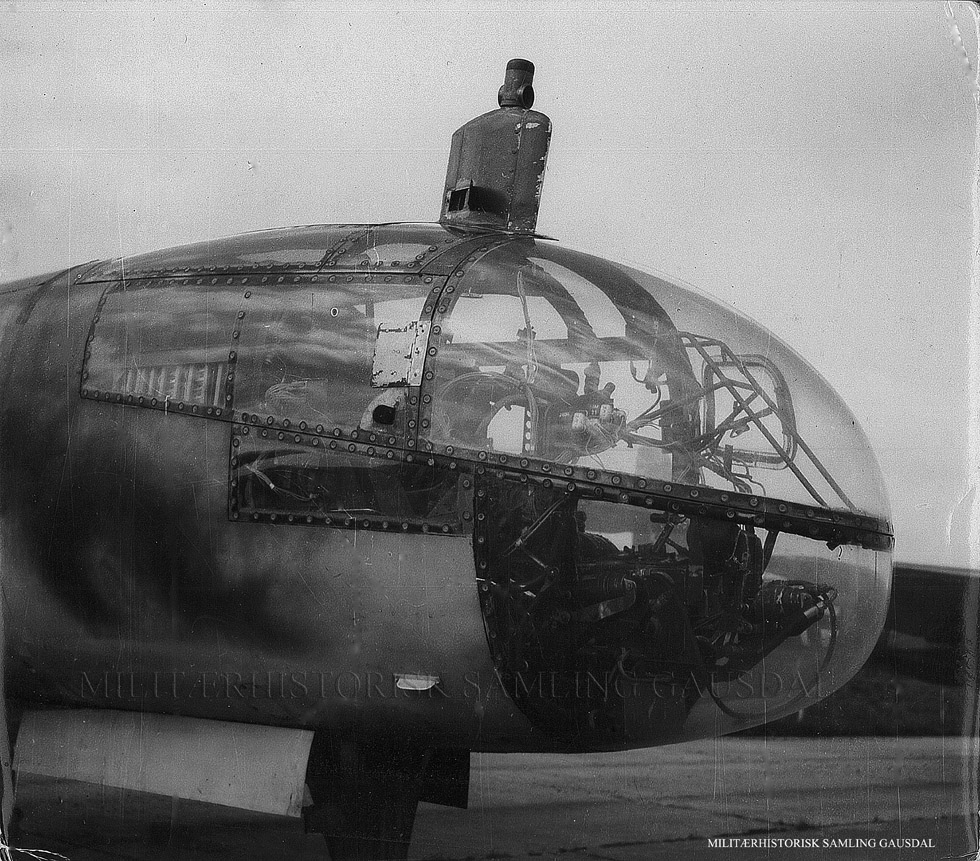 fly4
Bilde av nese seksjonen av AR 234 B tatt på Forus. Ett av disse AR 234 B står på USAF museet i Dayton , Ohio i USA.
Picture of the nose section of AR 234 B taken at Forus. One of these AR 234 B is at the USAF Museum in Dayton, Ohio, USA.






fly1a
Bilde Line Up av BF 109 tatt på Forus, eller Sola, merk at propeller er demontert på flyene.
66 stk. Bf 109 og Bf 110 var stasjonert på Sola / Forus i maidagene 1945.
Line Up of BF 109 taken at Forus airport, or Sola airport, note that the propeller is removed on the planes.
66 pieces. Bf 109 and Bf 110 was stationed at Sola / Forus in May Days 1945.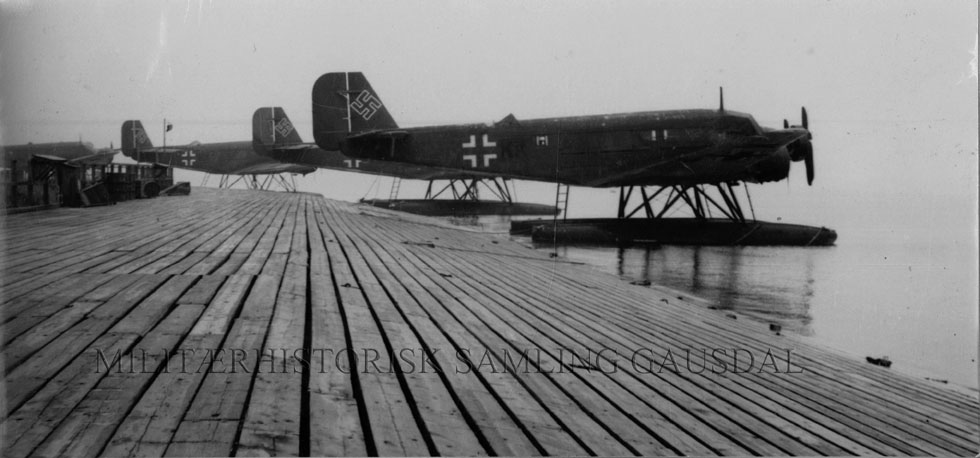 fly1b

Bilde av 4 stk JU 52/3m ved flytebryggen i Sola sjø. Luftwaffe etterlot seg ikke mindre en 46 fly av denne typen i Norge.
Størstedelen ble overtatt av RAF og fløyet til Hamburg, 12 fly ble overtatt her i landet for bruk av Luftforsvaret
og sivile flyselskaper. 8 av disse kom inn i Luftforsvarets tjeneste i 1945.

Photo of 4 pcs JU 52/3m at the floating pier Sola sea. Luftwaffe left behind no less than 46 aircrafts of this type in Norway.
The majority were taken over by the RAF and flown to Hamburg, 12 aircraft were acquired in this country for the use of Air Force
and civilian airlines. 8 of these came into Air Force service in 1945.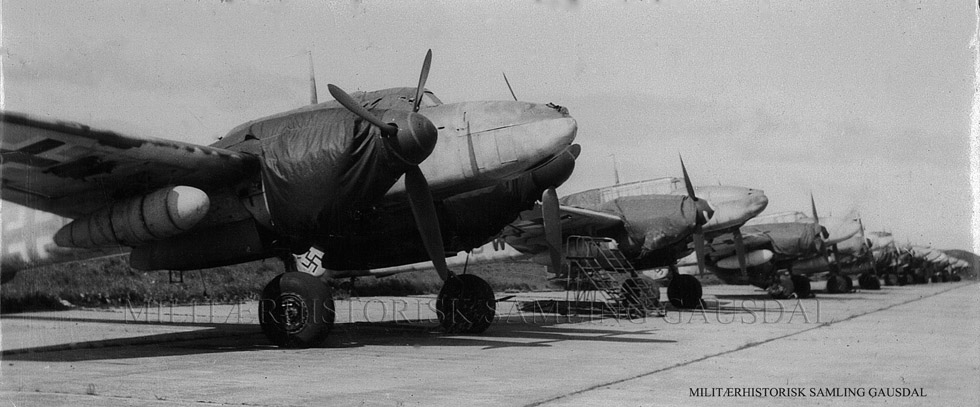 fly3
Line up av Bf 110 Jagerbombe fly tatt på Forus eller Sola
Line up of Bf 110 fighter-bomber aircraft taken at Forus or Sola






fly5a
Line up av JU 88 Bombefly Tatt på Forus eller Sola
Line up the JU 88 Bomber Taken at Forus or Sola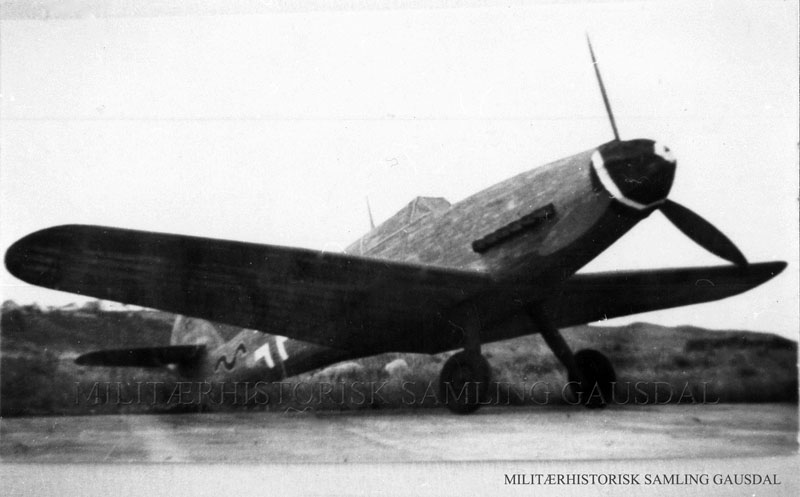 fly5b
Bilde av en " Decoy " tremodel av BF 109 som var plassert rundt på flyplassene. Dette var for å forsøke å lure de allierte til å angripe narreflyene.
Picture of a "Decoy" tree model of BF 109 which was located around the airports. This was an attempt to deceive the Allies to attack the dummy planes.






fly5c

Bilde av en Fieseler Fi. 156 Storch i British farger. En rekke fly ble overtatt av Luftforsvaret og RAF i Norge.
Dette lette kommunikasjonsflyet fantes nær sagt innen hver eneste avdeling i det tyske Luftwaffe, og 63 slike
fly ble funnet rundt omkring i Norge etter kapitulasjonen i mai 1945. Mange ble benyttet av RAF, og Luftforsvaret
overtok 35 Storch som ble brukt fra sommeren 1945 til det ble innført flyforbud for typen året etter.

Picture of a Fieseler Fi. 156 Storch in British colors. A number of aircraft were taken over by the Air Force and the RAF in Norway. This lightweight communications aircraft were nearly in every station of the German Luftwaffe, and 63 such aircraft was found around Norway after the capitulation in May 1945. Many were used by the RAF and the Norwegian Air Force took over 35 Storch used from summer 1945.


fly6
Bilde av JU 88 tatt på Forus
Picture of the JU 88 taken at Forus
---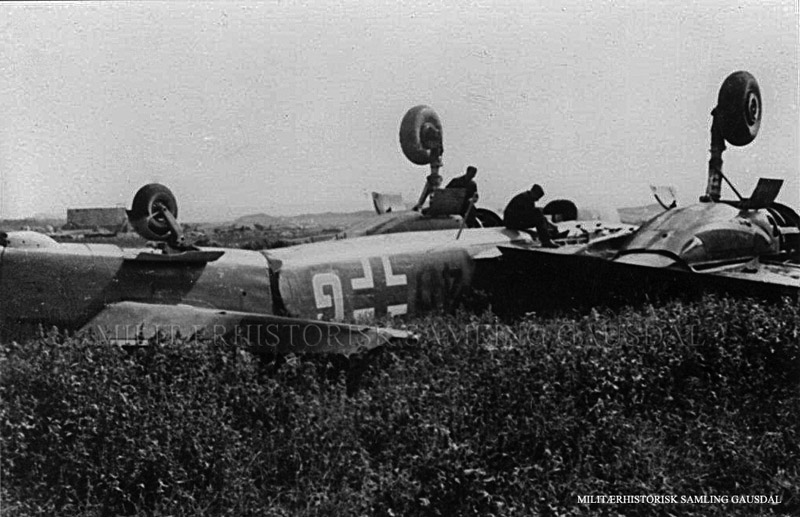 fly10
Bilde av tysk havaret fly muligens BF 110 ?
Image of German crashed aircraft possibly BF 110?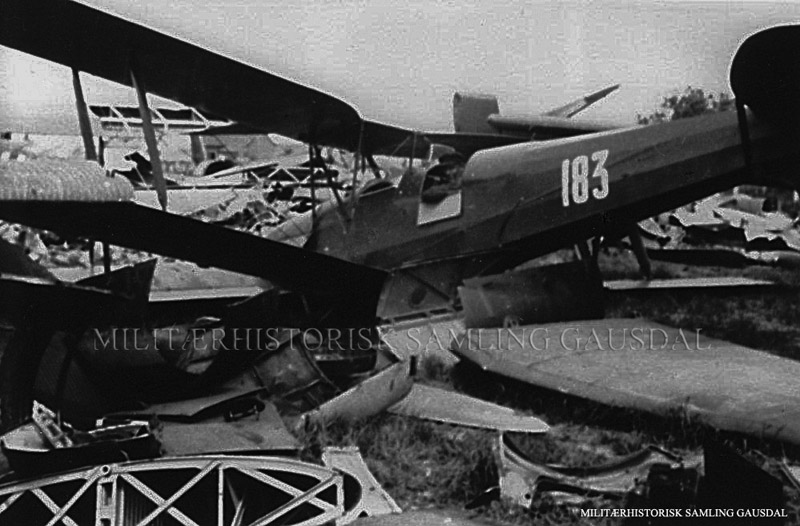 fly11
Bilde av norsk Fokker C.V.E. 2 seter biplan løpenummer 183, ukjent flykirkegård.
Image of Norwegian Fokker C.V.E. 2 seater biplane serial number 183, unknown aircraft cemetery.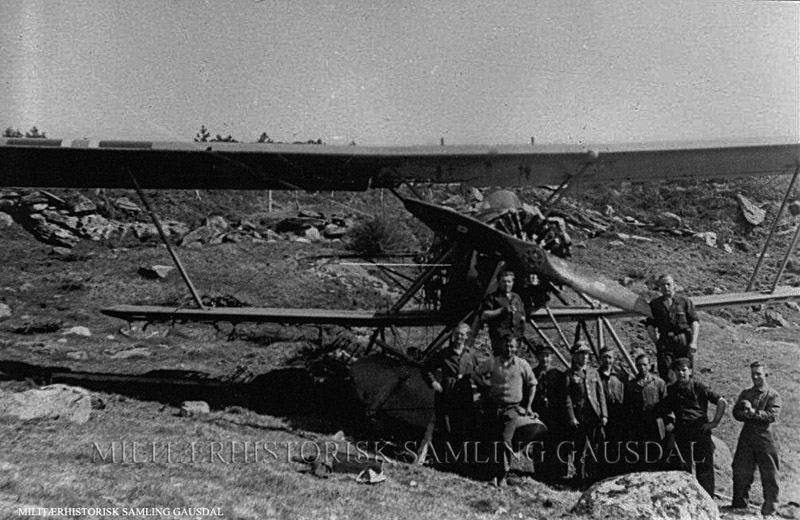 fly12
Bilde av norsk etterlatt M.F. 11 Tyske mannskap, sted ukjent.
Image of Norwegian left behind M. F. 11 German crew, location unknown.


NEW !!!! PDF DOCUMENT



Des Jägers Schiessfibel



---
---