Håndbok brukt av Stay Behind personell.

Håndboken er på størrelse med en vanlig herre lommebok. Innvendig er det festet plastlommer som papirene er satt inn i, for å hindre at de ble ødelagt.
Her kan du lese om de grunnleggende regler for sikkerhet som måtte følges for at agentene skulle klare å gjøre sin jobb i det skjulte. Grunnlag for planlegging av aksjoner, mottak av dropp og innhenting og rapportering av etterretningsopplysninger er også beskrevet.
Boken skulle nok holdes skult, og ikke bringes med på oppdrag.

Klikk på dokumentet til høyre.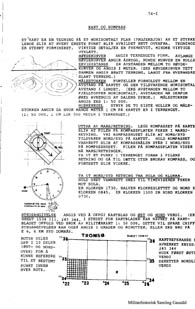 Stay Behind Handbook.
NEW!!!
Manual used by Stay Behind personnel.

The manual is the size of a regular men's wallet. Inside the attached plastic pouches papers inserted in, to prevent their destruction.
Here you can read about the basic rules of safety that may be observed that the agents would be able to do their work in secret. Basis for planning actions, receiving drop and the collection and reporting of intelligence data are also described.
The book should probably be kept Tucked away and not be allowed on mission.

Click on the document to the left.